Irish Trash Can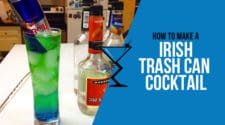 The Irish Trash can is a popular green drink especially around St Patrick's Day. The Irish Trash Can is a bright green cocktail made with a large mix of liquor and Red Bull. The blue curacao and the energy drink are the secret to turning the drink green. It sounds like it wont taste any good, but its actually quite drinkable.
the Irish Trash Can is a modern classic.
1 oz Blue Curacao
.5 oz Vodka
.5 oz Rum
.5 oz Gin
.5 oz Triple Sec
.5 oz Peach Schnapps
Energy Soda ((Red Bull))
In your cocktail glass add blue curacao, then some ice.
Add vodka and gin, then rum and triple sec then peach schnapps
Add ice and turn a can of red bull upside down in the glass.