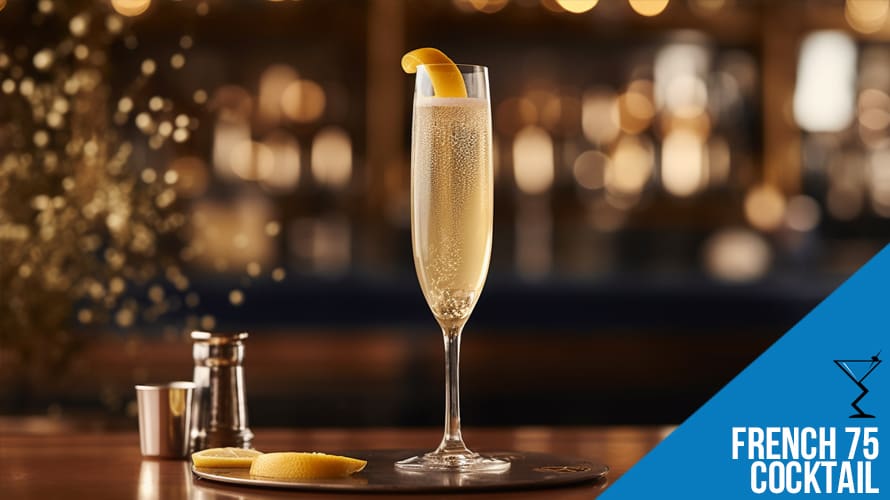 The French 75 is named for the fast-firing 75 millimeter field gun that was utilized by the French during World War One. Consisting of gin, fresh lemon juice, sugar and Champagne, the drink is a lot friendlier than the name implies.Like many classic drinks, the French 75's origin is mired in mystery and debate. According to drinks historian David Wondrich, the recipe first appeared in 1927 at the height of Prohibition in a book called "Here's How" that was published by a New York humor magazine.
The cocktail was soon immortalized in 1930 in the pages of Harry Craddock's "The Savoy Cocktail Book," which solidified the French 75's spread in bars and homes around the world.How it was invented, however, is less clear. It's likely that the drink cannot be attributed to one person, and instead, was the simple product of experimentation. Discerning drinkers in the 19th and early 20th centuries were known to combine gin and Champagne, a duo well-suited to sugar and lemons. But when the combination was given the French 75 moniker, its fate was sealed as a classic.
That said, it's possible that the first French 75s didn't contain gin at all. Cognac and Champagne were also fast friends, and some recipe books call for cognac in place of gin. This much is certain: Both spirits make an excellent French 75, so mix whichever version you prefer.Today the French 75 is a fixture in cocktail bars, but it's also a fan-favorite during brunch.
The effervescent drink offers a boozier kick than a Mimosa, while still providing ultimate refreshment before, during and after your eggs Benedict. Whenever you choose to drink the French 75—and whichever spirit you choose as its base—this is one classic you'll want to rediscover again and again.
Ingredients – What's in it?
Adjust Servings
1
serving
Instructions – How to make it:
Vigorously shake the gin, lemon juice and sugar syrup with ice,

Pour or strain into a tall glass .

Add the champagne and stir.
Nutrition
Calories:
204
kcal
|
Carbohydrates:
15
g
|
Protein:
0.2
g
|
Sodium:
4
mg
|
Potassium:
153
mg
|
Fiber:
0.1
g
|
Sugar:
11
g
|
Vitamin C:
19
mg
|
Iron:
0.7
mg