-
<![CDATA[]]>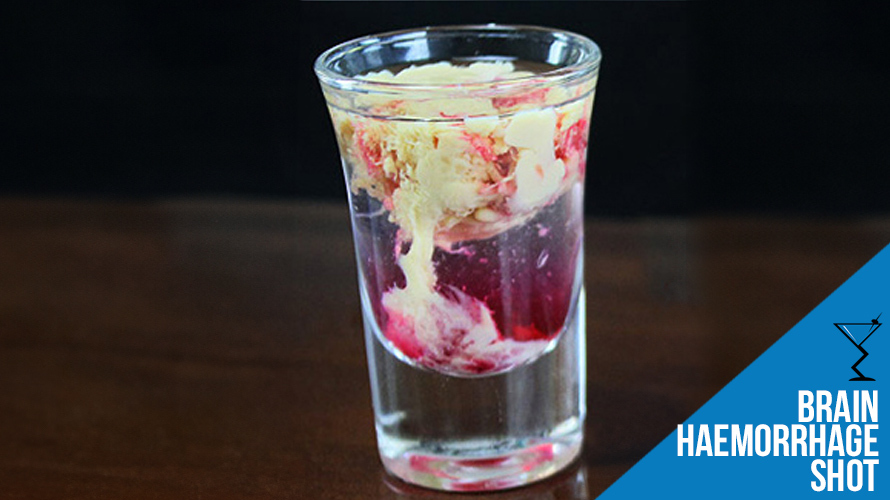 Halloween is the season for creepy decorations, unsettling costumes, and, of course, bone-chilling drinks. While there are countless beverages to add a frightful flair to your festivities, few command attention like the Brain Hemorrhage Shot. This eerie concoction not only offers a burst of layered flavors but also boasts a visual shock factor that perfectly captures the Halloween spirit. So, if you're looking for a drink that's as much a conversation starter as it is a tasty treat, you've found your potion.
Ingredients - What's in it?
Adjust Servings
1
serving
Instructions - How to make it:
Pour Peach Schnapps into a Shot glass and splash Irish Cream on top. Add the grenadine in separate drops into the glass. Serve.
Why This Shot is a Halloween Must-Have
What sets the Brain Hemorrhage Shot apart is its unique visual appeal. It's a showstopper that adds an element of surprise and intrigue to any Halloween event. Plus, the combination of peach, Irish cream, and the slight tartness from the grenadine creates a flavor profile that is oddly satisfying.
Tips for Serving
Use a clear shot glass to showcase the shot's visually appealing layers.
Make sure to add the Irish Cream and grenadine slowly to maximize the "brainy" effect.
If you're making multiple shots, line them up on a tray and serve them as a spooky batch to your guests.
The Brain Hemorrhage Shot is more than just a cocktail; it's an experience—a wickedly delightful blend of taste and theatrics. This Halloween, elevate your party to a realm of spine-tingling excitement with this hauntingly delicious shot. Cheers to a night full of frights and flavors! 🎃👻🍹
Nutrition
Calories:
83
kcal
|
Carbohydrates:
8
g
|
Protein:
1
g
|
Fat:
1
g
|
Saturated Fat:
1
g
|
Sodium:
1
mg
|
Sugar:
7
g