A Little History to Sip On
The Last Word cocktail, a Prohibition-era gem, was almost lost to the annals of history. Originating from the Detroit Athletic Club in the 1920s, this cocktail was the bee's knees during its heyday. However, as time marched on, it slipped into obscurity. That is until the early 2000s, when a curious bartender in Seattle rediscovered this classic and brought it back to life. Now, it's a staple in the world of craft cocktails, a testament to the timeless allure of a well-made drink.
The Magic Ingredients
What makes the Last Word so intriguing? It's a symphony of equal parts gin, green Chartreuse, maraschino liqueur, and fresh lime juice. Each ingredient plays a crucial role: the gin provides a botanical base, the green Chartreuse adds herbal complexity, the maraschino liqueur brings a hint of sweetness, and the lime juice ties it all together with a zesty punch.
Crafting the Perfect Last Word
Mixing a Last Word is like conducting an orchestra – it's all about balance. Start by chilling your cocktail glass. Then, in a shaker, combine equal parts of each ingredient. Shake it with ice until it's frosty and strain into your glass. The key is to taste as you go – the perfect Last Word should have a harmonious balance of herbal, sweet, and tart.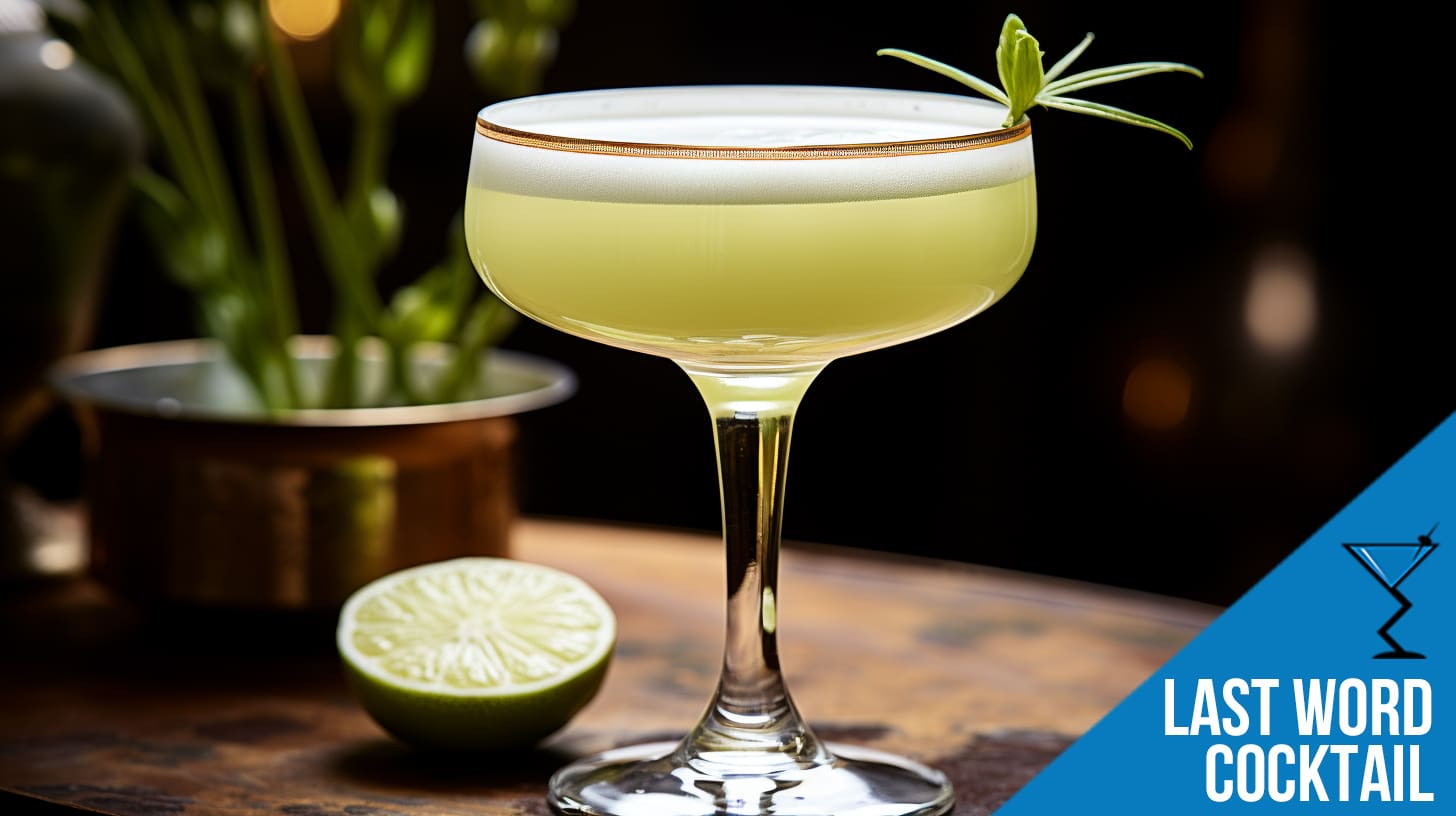 The Last Word cocktail is a tantalizing mix of gin, green Chartreuse, maraschino liqueur, and lime juice. A Prohibition-era classic that was nearly forgotten, it's now a symbol of the craft cocktail revival. With its perfect balance of herbal, sweet, and tart flavors, it's a sophisticated choice for any occasion. Whether you're a seasoned mixologist or a curious newbie, the Last Word is a timeless cocktail that's sure to impress.
Ingredients - What's in it?
Adjust Servings
1
serving
Instructions - How to make it:
Combine ingredients in a cocktail shaker and shake with ice.

Double-strain into a chilled coupe glass.
Nutrition
Calories:
187
kcal
|
Carbohydrates:
17
g
|
Protein:
1
g
|
Fat:
1
g
|
Sodium:
1
mg
|
Potassium:
25
mg
|
Fiber:
1
g
|
Sugar:
15
g
|
Vitamin A:
11
IU
|
Vitamin C:
6
mg
|
Calcium:
3
mg
|
Iron:
1
mg
A Taste of Sophistication
Sipping on a Last Word is an experience. The first note is the herbal complexity of Chartreuse, followed by the botanicals of the gin. The maraschino liqueur whispers its sweetness before the lime juice finishes with a crisp, clean tartness. It's a cocktail that evolves with each sip.
Twist It Up
Feeling adventurous? The Last Word is ripe for experimentation. Swap the gin for mezcal for a smoky version, or use basil instead of lime for an herbaceous twist. The possibilities are endless, and each variation tells a new story.
The Perfect Pair
This cocktail pairs wonderfully with light appetizers or seafood dishes. Its complex flavors can stand up to rich, creamy cheeses or a delicate ceviche. Serve it in a chilled coupe glass for that extra touch of elegance.
The Last Word in Modern Mixology
Today, the Last Word is more than just a cocktail; it's a symbol of the revival of classic mixology. It's a favorite among bartenders and connoisseurs alike, a cocktail that has stood the test of time and come out on top.
The Last Word is a testament to the enduring power of a great cocktail. Its balance of flavors and intriguing history make it a must-try for any cocktail enthusiast. So, next time you're behind the bar, remember this classic – it might just become your go-to.