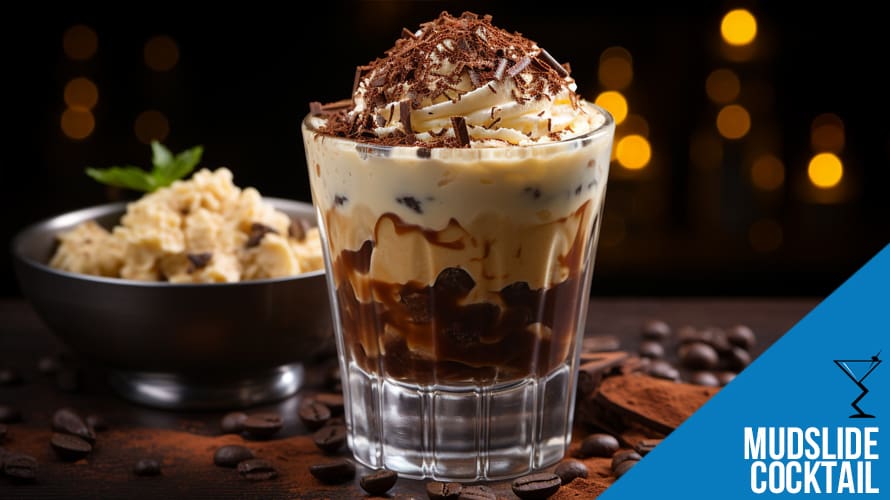 The Mudslide: A Boozy Milkshake with a Rich History 🍫
The Mudslide is your dreamy, creamy answer to dessert cravings, but did you know it also has a dash of tropical origins? Created in the 1970s at Wreck Bar in Rum Point Club on Grand Cayman Island, this cocktail took a detour from its snowy après-ski vibe and found itself a home on sandy beaches. It all began when a patron asked for a White Russian, and the bartenders decided to up the ante with some Irish cream. Voila! The Mudslide was born and quickly became a staple at chain restaurants and home parties alike.
Crafting Your Perfect Mudslide
While many renditions of the Mudslide lean heavily on ice cream and sugar, our version focuses on balancing the spirits with just the right touch of dairy.
Ingredients – What's in it?
Adjust Servings
1
serving
Instructions – How to make it:
Add the vodka, coffee liqueur, Baileys, and heavy cream to a shaker filled with ice.

Shake until well-chilled.

Strain into a chilled fizz glass or coupe.

Garnish with whipped cream and freshly shaved chocolate for that "mud" effect.
Fancy Upgrades: Want to elevate your Mudslide? Swap the vodka for a fine French brandy to add an extra layer of flavor. Did You Know?: The Mudslide became a hit at TGI Friday's, one of those chain restaurants that had us all flipping through laminated menus to select our cocktails back in the day. Ah, nostalgia!
Nutrition
Calories:
400
kcal
|
Carbohydrates:
22
g
|
Protein:
2
g
|
Fat:
19
g
|
Saturated Fat:
12
g
|
Polyunsaturated Fat:
1
g
|
Monounsaturated Fat:
4
g
|
Cholesterol:
48
mg
|
Sodium:
14
mg
|
Potassium:
41
mg
|
Sugar:
20
g
|
Vitamin A:
625
IU
|
Vitamin C:
0.3
mg
|
Calcium:
28
mg
|
Iron:
0.04
mg