-
The Jelly Donut Shot – A Sweet and Simple Indulgence
When you think of donuts, you probably imagine a deep-fried, sugar-coated treat filled with jam or jelly. But what if you could capture all that deliciousness in a glass? Enter the Jelly Donut Shot—a dessert-inspired cocktail that takes the essence of this classic pastry and serves it up in sippable form.
Much like its namesake, the Jelly Donut Shot delivers a burst of sweet and fruity flavors that are sure to please anyone with a penchant for indulgence. At its core, raspberry liqueur offers a vibrant, jammy note that brings to mind the jelly center of a donut. Adding richness and depth to this fruity base is Bailey's Irish Cream, a luxurious liqueur that lends a velvety texture to the concoction. A dash of sugar syrup and a sugar-rimmed glass complete the experience, making each sip a bite-sized dessert.
In just a couple of minutes, you've whipped up a Jelly Donut Shot that is as delightful to look at as it is to drink. Whether you're hosting a themed party, celebrating a special occasion, or simply indulging in a little treat, this quick and easy shot is the perfect way to satisfy your sweet tooth. Cheers to dessert in a glass!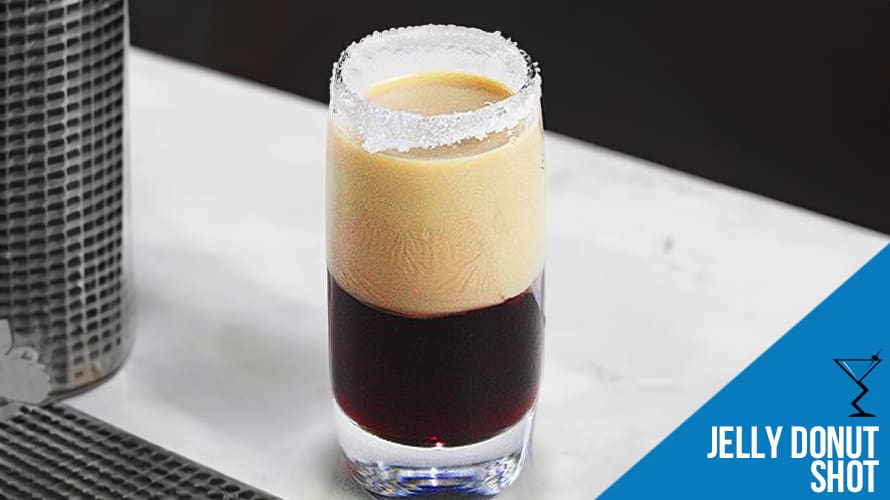 This shooter is sure to please anyone with a sweet tooth or loves a classic Jelly doughnut. The combination of Irish Cream and Raspberry Liquour is a perfect mix to give you that Jelly Donut taste. The good thing about this shot it, its quick and easy to make.
Ingredients – What's in it?
Instructions – How to make it:
Wet the top of your shot glass with sugar syrup or water and coat the rim with sugar.

Add your Raspberry Liqueur and then carefully layer Irish cream on top.

Most popular brands used to make this are Chambord Raspberry Liqueur and Baileys Irish Cream.
Nutrition
Calories:
117
kcal
|
Carbohydrates:
15
g
|
Protein:
1
g
|
Fat:
2
g
|
Saturated Fat:
2
g
|
Cholesterol:
1
mg
|
Sodium:
5
mg
|
Sugar:
14
g
|
Iron:
1
mg
Here are a few similar shots that you might enjoy:
The Rainbow Shot – This fun and colorful shot is made with a variety of fruit liqueurs, including raspberry liqueur, blue curacao, and green melon liqueur. The liqueurs are layered in a shot glass to create a rainbow effect, and the shot is typically served with a straw so that drinkers can enjoy all of the different flavors in one sip.

The Candy Shot – This sweet and indulgent shot is made with a variety of liqueurs and syrups that are inspired by popular candy flavors. For example, you might use cotton candy vodka, bubblegum liqueur, and marshmallow syrup to create a shot that tastes like a handful of sweet, sugary treats.

Cotton Candy Martini – This playful and whimsical cocktail is made with cotton candy vodka, which gives it a sweet and fruity flavor that is reminiscent of the classic carnival treat. The cocktail is typically served in a martini glass and is garnished with a sprinkle of cotton candy on top.
These are just a few examples of similar shots that you might enjoy. There are many other creative and fun cocktails to explore and enjoy as well.