Hear Me Roar Cocktail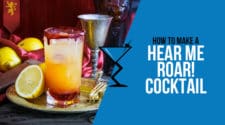 Support the Lannister Family with this Mango treat. Don't forget to check out our other Game of Thrones Cocktails.
Cocktail
20 ml Grenadine Syrup
100 ml Mango Puree
70 ml White Rum
Garnish
100 g Sugar
50 ml Date Syrup
20 ml Water
Garnish
Pour the water, syrup and sugar into a small saucepan or microwave.
Heat on low heat until the mixture turns into a thick caramel (do not mix!).
Put the edges of the glass in the syrup. Take it out, holding the glass upside down for a moment, and then put it aside and let it completely solidify.
Cocktail
Add Grenadine to your cocktail glass then carefully add ice
Then carefully pour the mango juice
And add white rum at the end.