The Night's Watch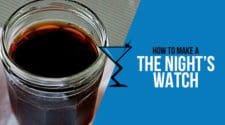 This caffeinated cocktail should give you the jolt you need to stay up and fight those scary White Walkers. Just the thought of them gives me the chills.
3 oz Coffee (Chilled)
.25 oz Benedictine
.25 oz Maraschino Liqueur
Add all ingredients into a cocktail shaker. Add ice, shake and strain into a glass and enjoy.