The Eleven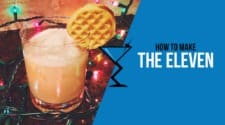 Whether you're recharging after protecting your friends from bullies and the Demogorgon or simply watching your favorite episodes of "Stranger Things", this whiskey maple sour dubbed The Eleven is just the cocktail to enjoy! Click here for more Stranger Things Themed Cocktails & Drinks
2 oz Whiskey
1.5 oz Egg White ((1 Egg))
1 oz Lemon Juice
.75 oz Maple Syrup
2-3 shakes Bitters
1 Waffle (Eggo Mini)
Pour whiskey and egg whites into a cocktail shaker. Seal and shake vigorously for 20-30 seconds or until the mixture is frothy.
Open cocktail shaker and add lemon juice, maple syrup and bitters. Reseal and shake gently to combine.
Fill a tumbler glass with ice, and pour the cocktail into the glass.
Toast Eggo mini waffles in toaster according to package instructions. Allow to cool briefly, then remove one mini waffle and cut a slit halfway into the waffle. Slide onto glass to garnish.
You can swap out the lemon juice and egg white for your favorite sour mix.