Rosemary Gin and Tonic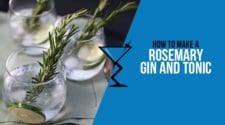 1 cucumber
1 lime
3 sprigs Rosemary
2 oz Gin
4 oz Tonic Water
Peel one half of a cucumber, and slice a lime into eight wedges.
In a highball glass, add three slices of peeled cucumber, 1 sprig rosemary, juice from a lime wedge and 1 ounce gin. Muddle with the back of a spoon.
Strain through a mesh strainer into a second highball glass.
Add several cubes of ice, and three slices of unpeeled cucumber. Top with remaining gin and tonic, and serve garnished with rosemary sprigs.