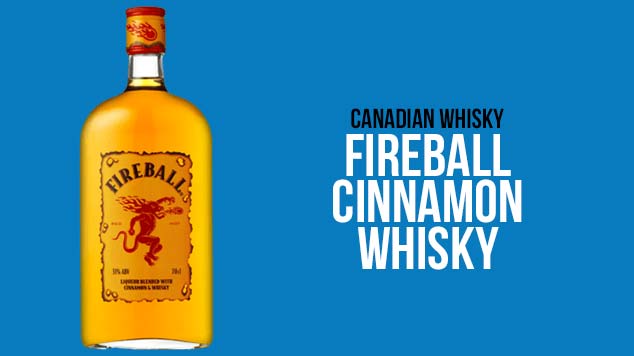 Fireball Cinnamon Whisky
Lovers of all things hot and spicy are going to be clamouring to get their hands on Fireball Cinnamon Whisky. With a recent history that began in Canada in the min-80s, cinnamon infused spicy whisky's were the perfect tonic for the icy cold winters. With a strong cinnamon taste that is best served in a shot, Fireball Whisky is both hot and cold, smooth yet with a bite and sweet but spicy.
Fireball is made with Canadian whisky and natural cinnamon flavours. It's certainly very cinnamony, and it's not too sweet, which is a plus. A very popular shot drink on the other side of the pond, Fireball was awarded 87 points from the Beverage Testing Institute, and a Silver Medal from the International Review of Spirits.
Product Detail:
Varietal: Canadian Whisky
Liquor Style: Whisky Liqueurs
Age: 6 Year Old
Country: Canada
Closure: Screw Cap
Alcohol Volume: 33.0%
Tasting Notes:
Description: This is a drink for cinnamon lovers.
Colour: Bright gold.
Aroma: A mixture of intense sweet cinnamon at the front, with subtle sour cinnamon at the back.
Taste: A whack of sweet cinnamon at first, with the spicy burn slowly building, though not reaching a level I would describe as 'burning like hell'.
Finish: The intensity slowly drops, leaving a refreshing, almost menthol-like taste at the back.
Other Cinnamon Whisky Brands
Popular Cocktails with made with Fireball Cinnamon Whisky
More Canadian Whisky Drinks