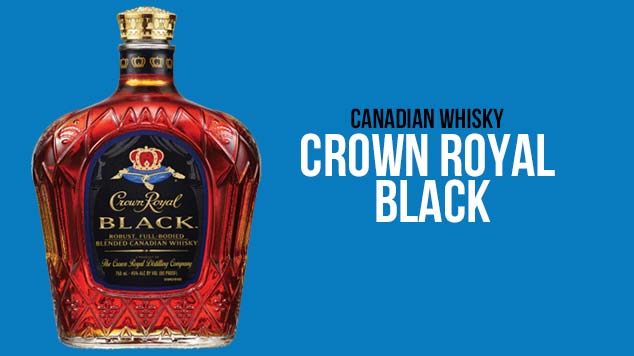 Crown Royal Black Canadian Whisky
Black is a bolder, darker and more robust whisky blended at 45% (90 proof), yet retaining the signature smoothness of Crown Royal. The palate features a deeper oak background with dark, sweet, maple notes and a light vanilla flavour towards the finish.
Crown Royal Black is a rich and flavorful blend of Canadian whisky. All the signature smoothness of Crown Royal, matured in charred oak barrels and blended at a higher proof for a richer texture and bold finish.
Product Detail:
Varietal: Canadian Whisky
Liquor Style: Blended Whisky
Age: 7 Year Old
Country: Canada
Closure: Screw Cap
Alcohol Volume: 45.0%
Tasting Notes:
Description: Refreshing and Smooth.
Colour: Bright copper / mahogany colour
Aroma: Deeper oak background with sweet maple notes.
Taste: Creamy, 'velvety', dried fruit notes, mainly fig. Sweet and heavy scents of moderate intensity including dilute maple syrup, vanilla wafer and cocoa.
Finish: Deeper bourbon notes and smooth at a higher proof.
Other Canadian Whisky Brands
Popular Cocktails with made with Canadian Club
More Canadian Whisky Drinks