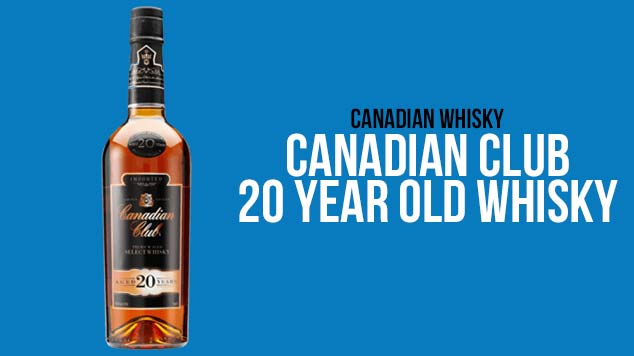 Canadian Club 20 Year Old Whisky
A flagship of the Canadian Club range, CC's aged 20 years adds another level of flavour to the already distinctively smooth taste the brand has become internationally famous for. The extra age is showcased on the palate – soft oak, spiced sweet rye spices, and hot pepper. The finish is sweet and slightly peppery with hints of spices, vanilla, fruit, and wood. Best served in a classic cocktail or sipping on the rocks.
Product Detail:
Varietal: Canadian Whisky
Liquor Style: Blended Whisky
Age: 20 Year Old
Country: Canada
Closure: Screw Cap
Alcohol Volume: 40.0%
Tasting Notes:
Description: Refreshing and Smooth.
Colour: Bright gold.
Aroma: Some nice, sharp rye and dry corn (like fresh cornmeal) comes up with classic rye fruitiness. Oak comes up, along with some pencil shavings, with earthiness much like you might expect a slightly damp, mossy oak stave to smell – though not perhaps the most appealing description it is a great smell. Light fruit – white grape and green plum as well as notes of strawberries. It does smell quite dry overall, and underneath the larger aromas there is a rich toffee backdrop, alongside a caramel pudding creaminess. The whisky reminds me very much of a well-aged dark rum, interestingly enough.
Taste: Rich maple and woody flavours start the palate, with some molasses notes leading into a sweeter brown sugar note along with some toasted oak. It is interestingly nutty, and has an almost nutty cookie-dough like feel to it along with a strong orange note like orange liqueur. The rye comes through almost right at the end of the palate – overall it's quite rich and dense. The molasses notes are interestingly strong enough that I wonder if I could be sipping a rum.
Finish: Quite dense, and slowly unfolding, with some interesting flavours that remind me of what cookie dough made with whole wheat flour might taste like. It is still fruity, and feels quite lively because of the light fruitiness. The back of the throat particularly, I find, "feels" this whisky. There are still molasses notes, reminiscent of a good dark rum. There is also oak, light orange peel, and a very light touch of vanilla.
Other Canadian Whisky Brands
Popular Cocktails with made with Canadian Club
More Canadian Whisky Drinks