PEACHY KEEN MIMOSA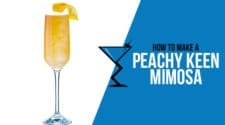 The most amazing, shimmery and beautiful mimosa that anyone has ever seen. Yum and then some. See you at brunch!
2 oz Viniq Glow
2 oz Moscato ((Pink))
2 oz Orange Juice
Chill ingredients. Combine in a champagne flute and garnish with an orange twist. A mimosa everyone will remember.