PEACH PINEAPPLE PUNCH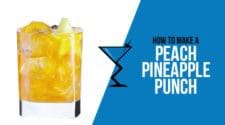 After a hard day of work, it's time to relax. Imagine you're at the beach and enjoy a sweet glass of this refreshing cocktail.
2 oz Viniq Glow
1 oz Pineapple Vodka
1 oz Lemon Lime Soda
Pineapple
Build ingredients in glass over ice.
Garnish with a pineapple slice.