Melon Gin and Tonic.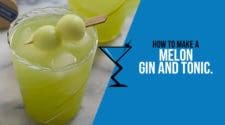 4 cups Honeydew Melon
.25 cup Sugar
.25 cup water
Gin
Tonic Water
In the jar of a blender, add the honeydew melon, organic cane sugar and water. Blend until very smooth, about 1 minute. Place a sieve over a bowl. Pour the honeydew puree into the sieve and discard the pulp.
Add a few ice cubes to each of the four glasses. Pour in three fluid ounces of honeydew juice to each glass; top with one to two fluid ounces of gin and add a splash of tonic.