Guinness Float Cocktail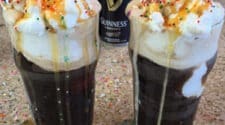 You can't have a St Patrick's Day party without beer! And what better beer to have than the amazing Guinness Stout! In a float no less!
1 can Guinness Beer
3 scoops Ice Cream
Whipped Cream
Caramel Sauce
Sprinkles
In your beer glass, pour in your Guinness Beer.
Top with 3 scoops of ice cream, whipped cream, caramel sauce and sprinkles.