Deadshot's Diplomacy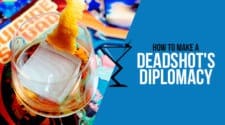 DC's greatest assassin, known for his expert marksmanship and near perfect track record, calls for an equally smooth, straighter-shooter of a cocktail. A riff on the classic Old Fashioned, this sweet and smooth sip swaps out whisky for the multi-award-winning Diplomático Rum.
2 oz Rum ((Diplomático Reserva Exclusiva))
1 teaspoon Sugar
2 dashes Bitters
3-4 dashes Water
1 Orange Twist
Pour sugar in an old fashioned glass and add Angostura bitters and water. Muddle until dissolved.
Place a large rock in the glass and add Rum (Diplomático Reserva Exclusiva). Garnish with orange twist.