Aussie Dark & Stormy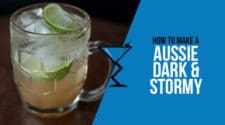 The Dark and Stormy is a classic cocktail you'll find on most drinks lists. But we've changed a few elements to make it 100% Australian and even better than the original.
oz Rum
1 dash Riberry Shrub
1 chunk Ginger
1 wedge Lime
1 bottle Apple Cider ((Pressman))
Muddle the lime, ginger and Riberry Shrub in a cocktail shaker.
Add the rum and some ice and shake well.
Double strain into a mug over plenty of ice.
Top up with cider and garnish with lime wedges.