4th of July Shot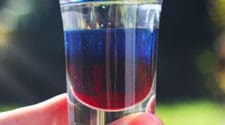 The 4th of July Shot and the Patriot shot are the same thing and are often confused with the the Red, White and Blue shot,, but the 4th of july shot contains vodka and the red white and blue contains Peach Schnapps. If you like this shot you will also like the Red White and Blue which is very similar, but sweeter. Don't forget to subscribe to our youtube channel and I'll see you next time!
.33 oz Grenadine Syrup
.33 oz Blue Curacao
.5 oz Vodka
Layer with a spoon, starting with Grenadine, Blue Curacao then Vodka.